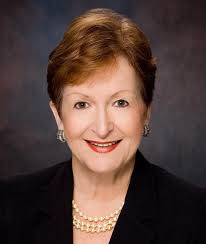 Success is a Journey of Passion
Growing up across the street from an orphanage can help explain why Jane Goodwin is so appreciative. And having her parents invite an orphan to live in their household while Jane was in high school can help explain how unspoiled she is despite otherwise being an only child. But nothing she shared with me can help explain her fire and passion…except that she's a redhead.
"Success is a journey of passion," she says. "And it's always evolving."
Jane's journey has taken her from Rome to Athens to Venice with stops in between. After a broad smile and a contagious laugh, she explains she was born in the small town of Rome, Georgia leaving it to attend the University of Georgia in Athens. Her current home in Venice, Florida is an old family bungalow her parents built when she was a child. "It's comfortable," she says in her smooth Southern drawl.
But comfort does not seem to be one of Jane's drivers. A self-described risk-taker, Jane has enjoyed multiple careers in various sectors including business, non-profit and government. Her current post seems to offer her the opportunity to utilize many, if not most, of the skills she's acquired along the way.
"Most things happen, evolve as they should," she muses.
And, if it's an evolution, one might say that, in the process and over the years, Jane has developed her brand consistent with her personal mission statement.
"Living a purposeful life in service to others. That's it," she says. "Get your mind off yourself. Think of other people, help a child, write a thank-you note. It's a tonic, better than any pill."
Now a second-term member of the Sarasota County School Board where she has twice served as chair, the 69-year-old powerhouse is leveraging her position to champion children. Her special emphasis is on supporting programs that help underprivileged elementary students read at grade level, aid single parents, and assist grandparents responsible for rearing their grandchildren.
That said, Jane has answered, "What's next?" There's enough important work here, one would think, to keep her going for a long time to come.
Would you like to comment or do you know of any successful explorers we might profile?  Let us hear from you!
© 2015 Advantage-Plus Resources, Inc. & SuccessAfter60.com. All rights reserved.