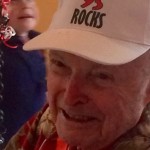 Success is Being Ageless
Sometimes I feel ageless.  Other times, I feel about 120 years old.  I can usually tell how the day will go when I roll out of bed.  At the rate I'm going, I'd be surprised if outlived my father who, thank God, is still sharp as a tack but who keeps me on my toes otherwise.
Actually, he's pretty amazing.   At 95, he has passed the necessary vision and reflex exams to keep his driver's license.  Right now, his privileges are not set to expire until he's 100!
He still has all his teeth, too, and only needs glasses for reading.  He takes absolutely no prescription medications.
Dad has a lady friend nearly a decade younger.  It's no wonder that when he moved into a community after my mother's death, women much younger were chasing him. He's a charmer, a handsome and intelligent dude, a good conversationalist and well-traveled.  He was going strong trekking around the globe several times a year until a few months ago.  Maybe he's stopping to catch his breath or maybe this is the end of big trips.
If he slows down a little more, I might be able to keep up with him.  Most of the times, he makes me dizzy.
Do you have a parent, child or partner who can outpace you?  Or are you a caregiver with sometimes less energy and enthusiasm to give than it takes to support your loved one?
These are totally different situations, to be sure, but the challenge remains that we need to keep pace while avoiding burnout.  After all, we want to be ageless, too!
Do you have a comment to share or do your know of an ageless explorer we might profile? Let us hear from you!
©2015 Advantage-Plus Resources, Inc. & SuccessAfter60.com. All rights reserved.