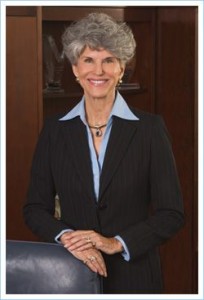 Sarah Pappas is simply unstoppable success.
Some people retire. Others don't. Some can. Some won't.  The ones who don't and won't are the "unstoppables."
Sarah Hughes Pappas is one of these.
With a step by step, methodical approach to career development and a simple formula for personal success, Sarah remains enthusiastically committed to her current executive-level position at the William G. and Marie Selby Foundation in Sarasota, Florida as she strides through her 70s.
Actually, she's dancing through her 70s. Physically fit and active, Sarah especially enjoys classes in Zumba, an exercise routine featuring world music with mostly South Beach – Caribbean style rhythms. Watching her dance, it's not surprising that that Latin rhythms seem to be in her bones. She was born in Puerto Rico and grew up in Havana and Mexico City before landing in the U.S.
Losing her mother at only 17 was major setback during her youth, "one that called for me to become independent and make decisions early on," she explains. Perhaps it was this personal tragedy that helped create her formula for success which she insists "hasn't changed throughout the years."
"It's finding work that is fulfilling and meaningful, balanced by family life that is loving and supportive," she says.
And that's her north star, plain and simple.
So, where has Sarah been and where is she going? With her husband of 49 years, two step-children and two grandchildren at her side, education has been her life's work even though she promised herself not to follow in her mother's footsteps as a teacher.
Known respectfully and affectionately as "Dr. Pappas," she earned degrees from Penn State, University of South Florida and Nova Southeastern University while climbing the ladder of responsibility at various institutions as a sociology faculty member, a dean, an associate vice president and, finally a community college president at Manatee Community College. Even now, as a foundation executive with a $78 million endowment, she still exerts a major impact on the lives of students by providing scores of scholarships annually.
While Sarah has no immediate plans to take her success beyond her meaningful paid career, she shares that she's next interested in board leadership and volunteer work. Makes sense. After all, what would you expect from an "unstoppable?
Do you know of any other successful explorers we might profile or would you like to comment on this post? Let us hear from you!  
© Advantage-Plus Resources, Inc. & SuccessAfter60.com, 2015