It's not for me! I gave an "active" retirement community in a great waterfront Florida city a six-month experimental try and my bottom line assessment agrees with Sophia, the lovable curmudgeon in the iconic "Golden Girls."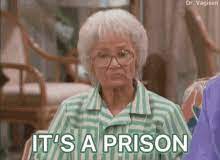 It's a prison, plain and simple. Almost no one resides there who is truly independent so "active" is a relative term. Many, perhaps most, are struggling with health issues and needing care.
Many are placed there by their families as a convenience. Others have placed themselves there to avoid being a "burden" to their loved ones.
A mostly delightful bunch of souls whose better days are sadly behind them.
There are a few super agers like the 95-year-old Gerber Baby who wrote mystery stories after retiring as a school teacher. All with almost-always wonderful stories to tell. As long as they can remember them.
As for me, my time may come — if I'm lucky enough to live long enough and my resources do not deplete — but it's not today. As the lyrics of the popular 50s song "Forget Domani" reprises: "Let's forget about tomorrow. For tomorrow never comes!"
Meanwhile, I remain grateful and strive to make a positive difference. So, when I whine, please remind me to quit complaining!