Part of maturing as a human being, according to renowned psychologist Erik Erikson, is reaching the final stage of development at about age 65.   It's then we search to acquire the basic virtue of wisdom.
My quest for wisdom has, in part, driven me to seek more information about my ancestors and to share what I know with my family. So, in the last year, I have taken my daughters with me to Cuba to better understand our paternal ancestors.  Likewise, I ventured to the Canary Islands in search of more information about the same side of our family.
Just recently, I felt the need to revisit Sicily with my daughters out of a strong desire to learn more about our maternal ancestors.  I had been there in 2007 shortly after my mother's passing in an effort to somehow reconnect with her.  Now it was time to continue my ancestral pilgrimage.
Here's a summary of our one-week whirlwind family pilgrimage to Sicily:
Days 1 and 2: Individually, we flew into Palermo, the ancient capital, our meeting point from around the globe. Big city, art, culture, hustle and bustle. I could write a book…as so many have! Check out the beautiful Palermo Cathedral below.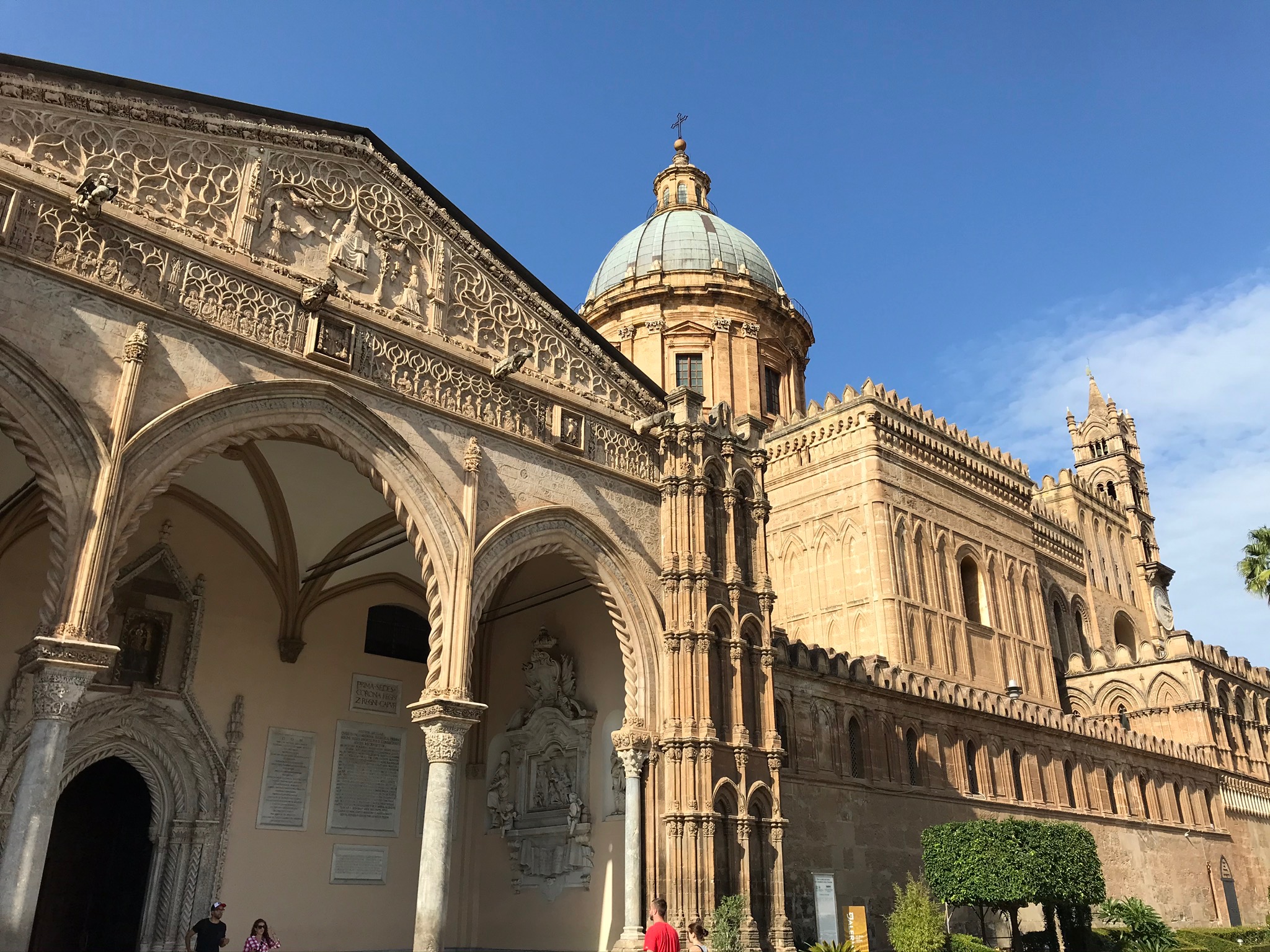 Day 3: With our trusted driver, Vincenzo, we began our journey with a trip to our ancestral town of Santo Stefano Quisquina, population not exceeding 5,000.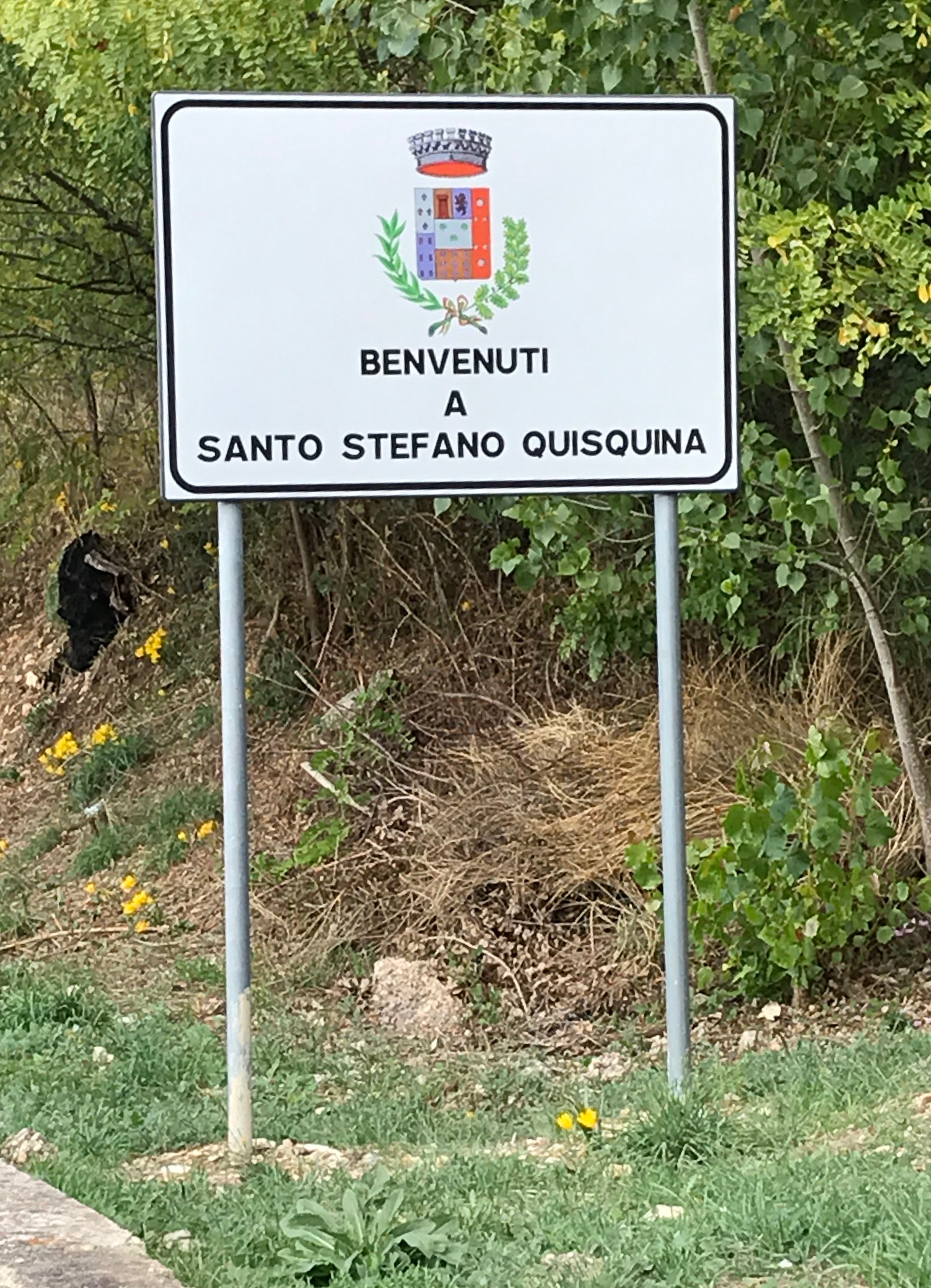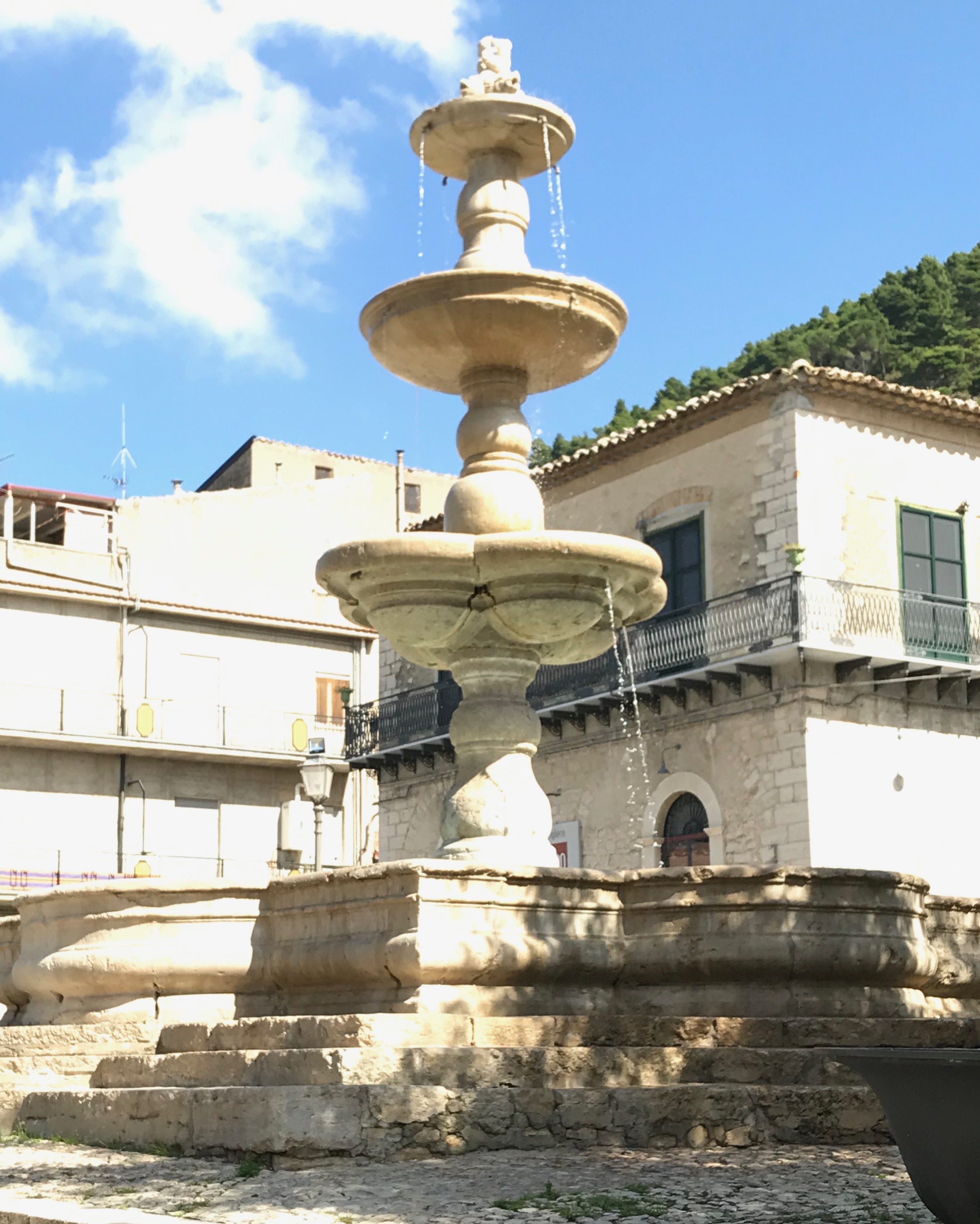 Arriving at City Hall, I was amazed to be greeted by a cousin I had never met.  Giuseppe Chillura Martino (below) stood at the doorway in what seemed to me to be a somewhat of miraculous vision.  We exchanged pleasantries briefly noting a common ancestor dating back to 1750:  Nicola Chillura Martino, my 4th great grandfather.  Also there with him were a few other contemporaries with various surnames including those of Scolaro and Sinardi (below), all asking if I knew any of their relatives who migrated to Tampa, my hometown.  Incredible experience!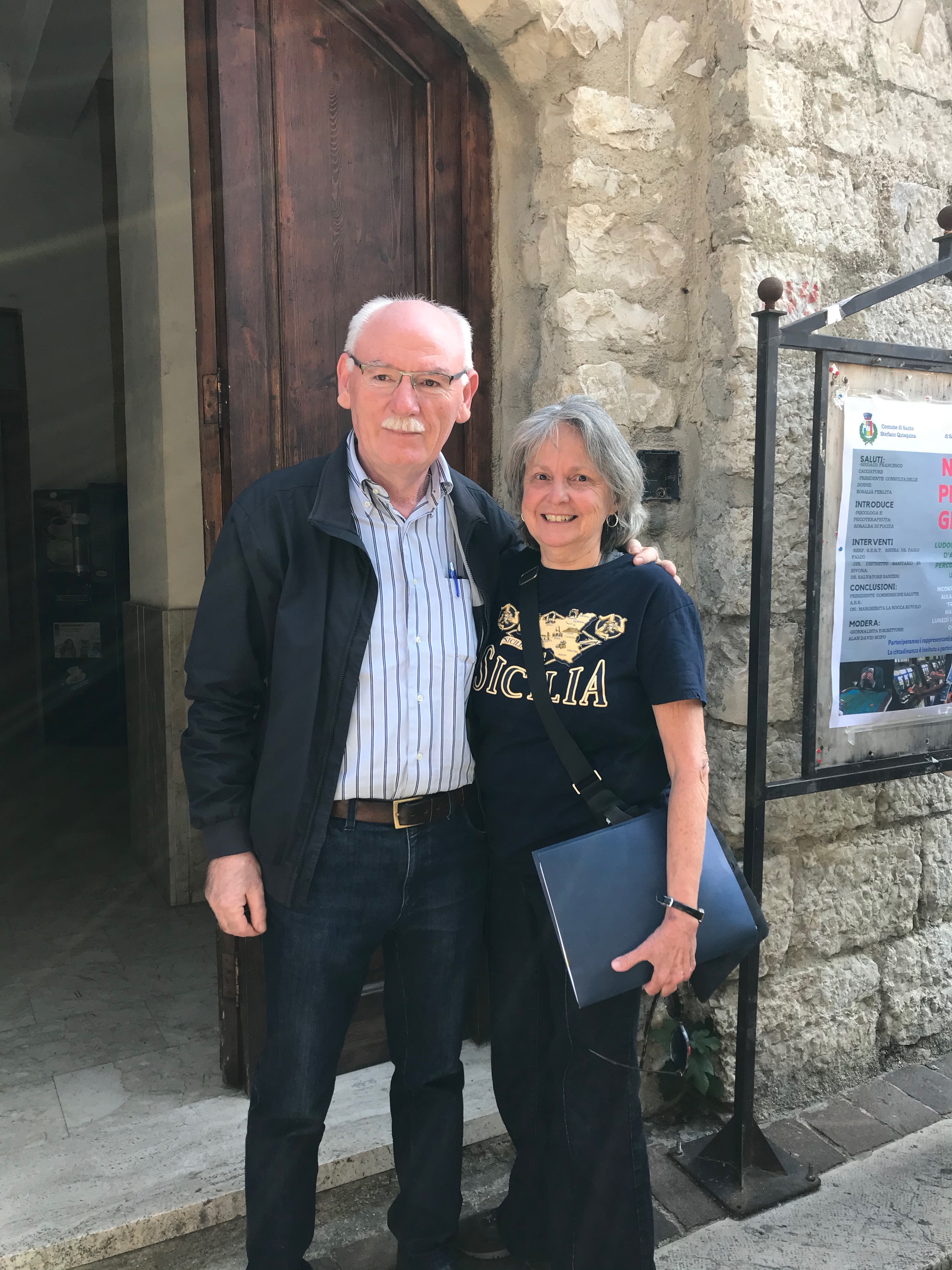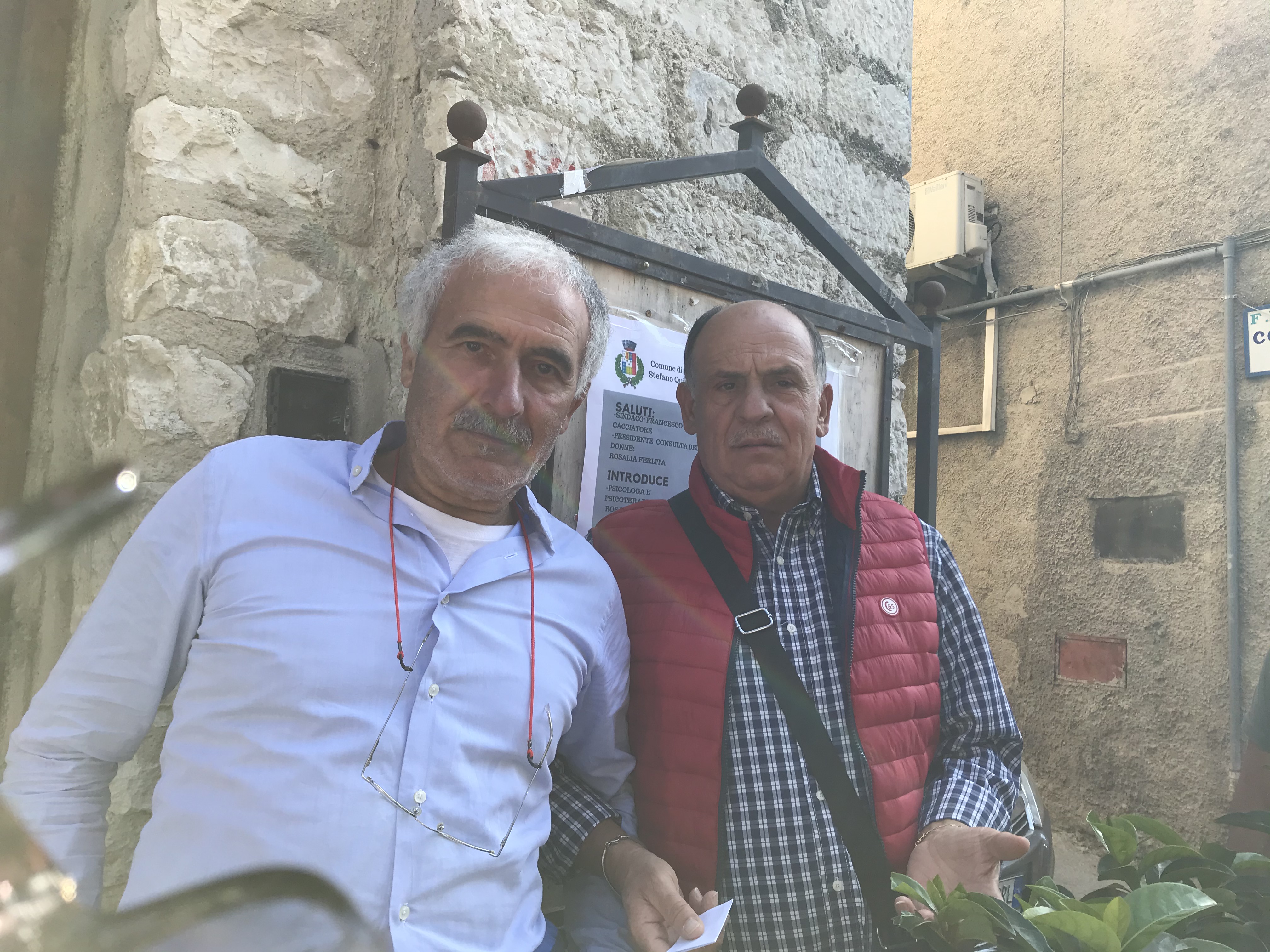 At the Municipio/City Hall, we were welcomed and presented with marriage certificates I'd requested in advance.  These assured me my work in tracing ancestors was, indeed, accurate. To trace farther back in time, we needed to research available church records.
So, off we went to Chiesa Madre, the church where since the 16th century, members of my family have celebrated baptisms and weddings and mourned at funerals.   While the pastor was not available to help with searching records, there was good news:  The Diocese of Agrigento would intercede and prevail upon the pastor to assist us in our search.  WOW!  To be continued over what may well be an extended period of time, maybe the rest of my life.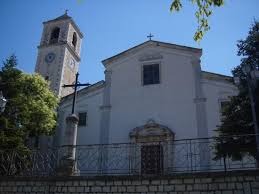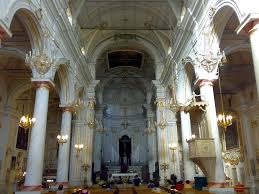 Taking a break, we headed to Militello's for lunch.  A Tampa friend, Joanne Guggino, alerted her cousin, Maria Cristina Guggino (below) and her spouse Maurizio who owned the restaurant, that we'd be stopping by.  What we did not expect was their generous and gracious hospitality.  The lovely couple treated us all to lunch.  While munching on their delicious delicacies and watching the parade of people popping in for a quick bite to eat, another surprise:  Quite by happenstance, I met another cousin, Ernesto Reina (below) with whom I share another common ancestor who migrated to Tampa: Ignazio Reina, my great-grandfather! The world could not have seemed smaller than at that moment in time. If this had been planned, it would not have worked out as well as it did by serendipity.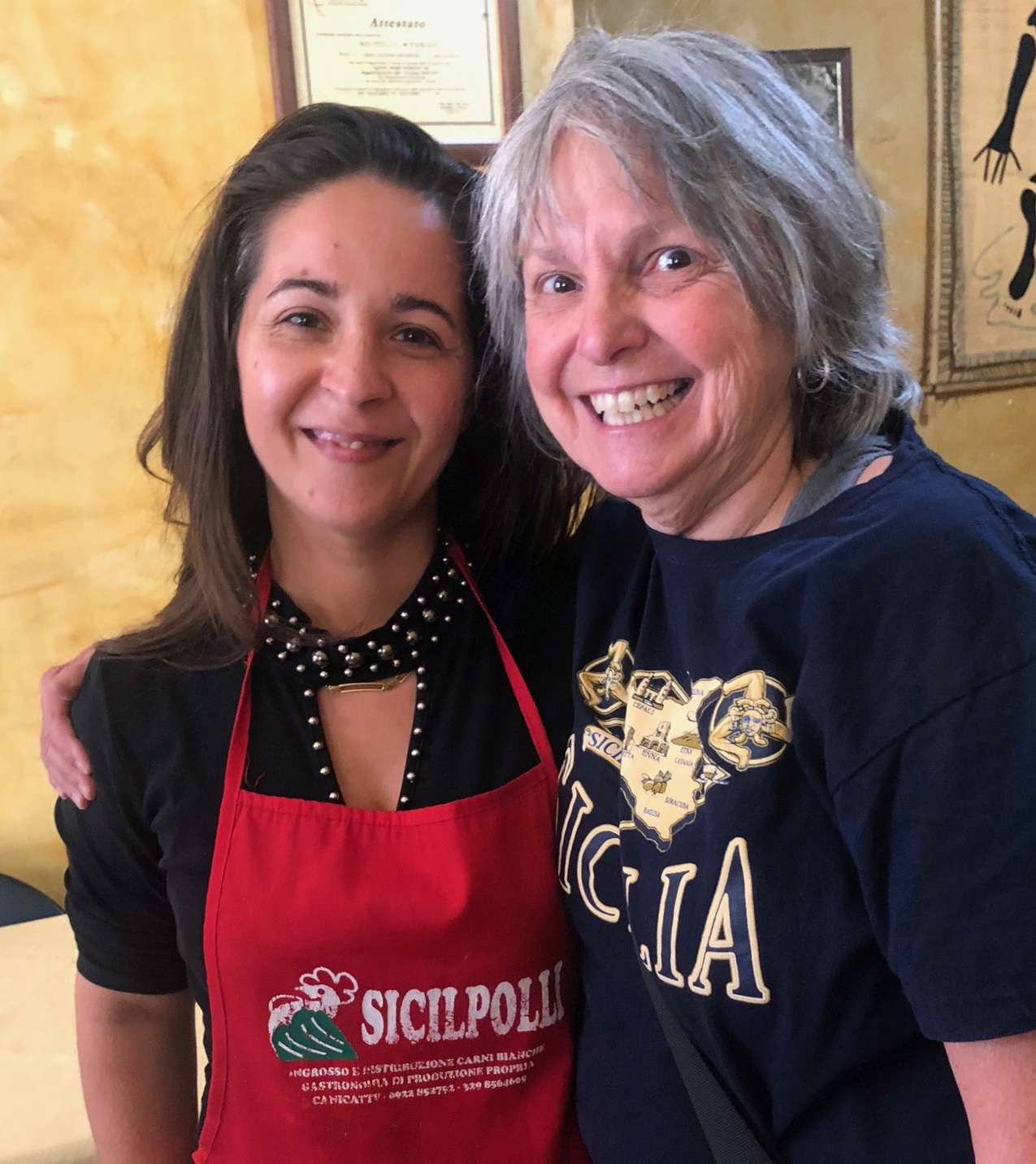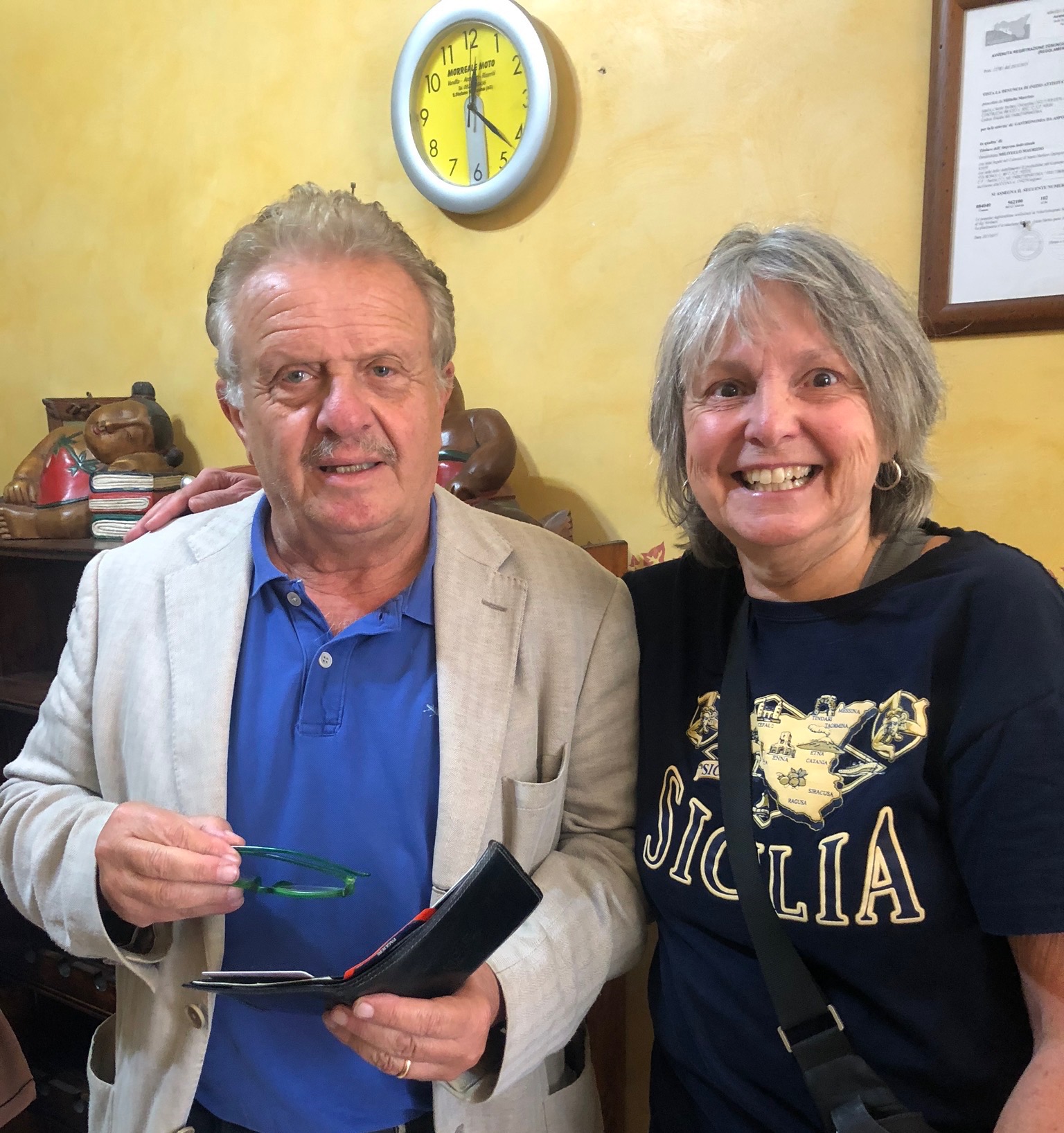 After this second surreal encounter, we strolled around town and noticed the many street names associated with families in Tampa. Stats say 60 per cent of those who have left here have gone to Tampa. Strong ties, indeed!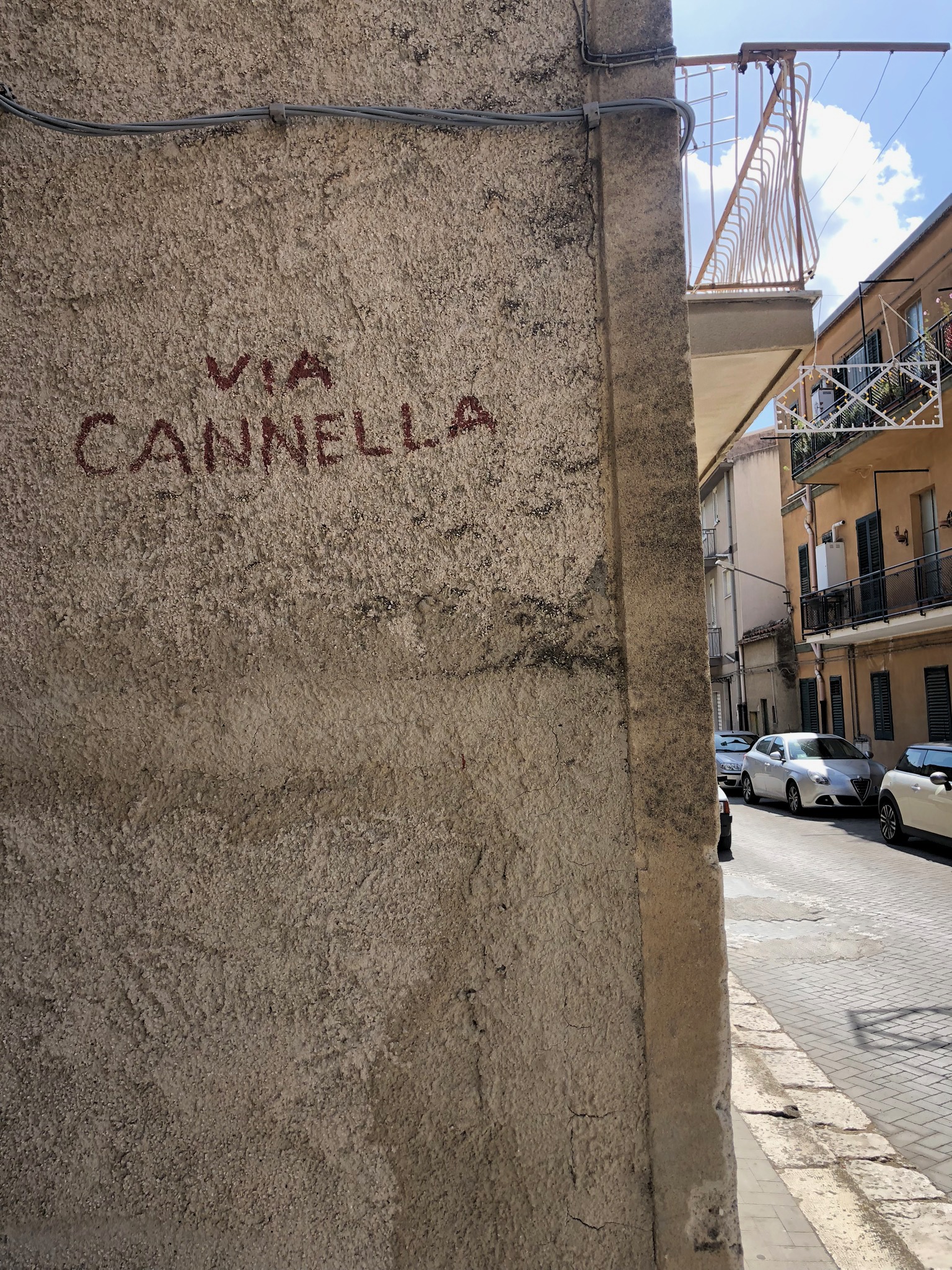 We then headed to the cemetery to find graves of ancestors. Much to our surprise, our family surnames were intermingled with seemingly every other family in town leading us to the conclusion that we, from Tampa, are ALL related!  I had suspected this when working on my family tree noting multiple relationships with a number of persons. Imagine the complexities of large families in a small town where, in all too many cases, women died in childbirth and men remarried and started new families. Children, more children, cousins, more cousins!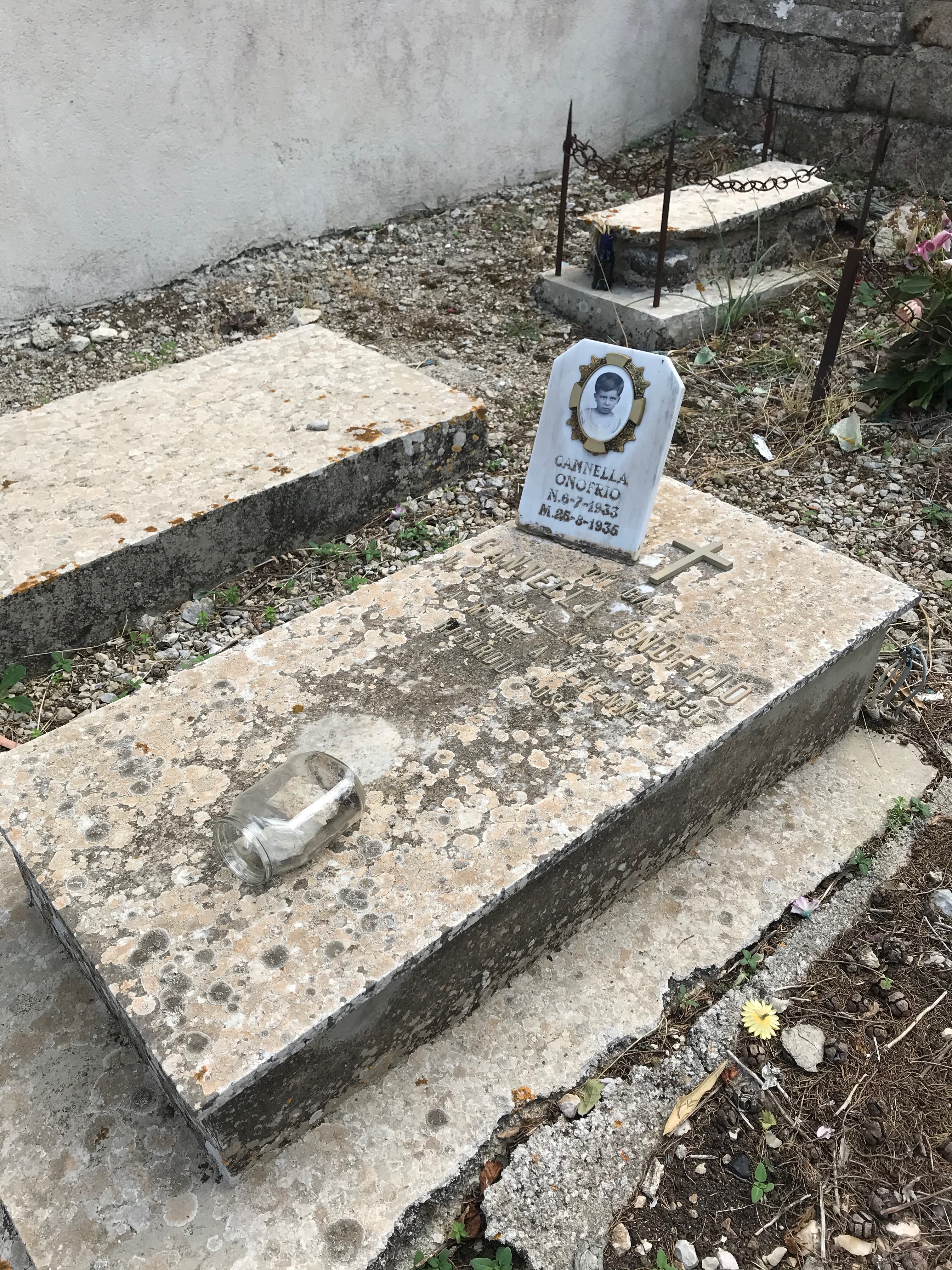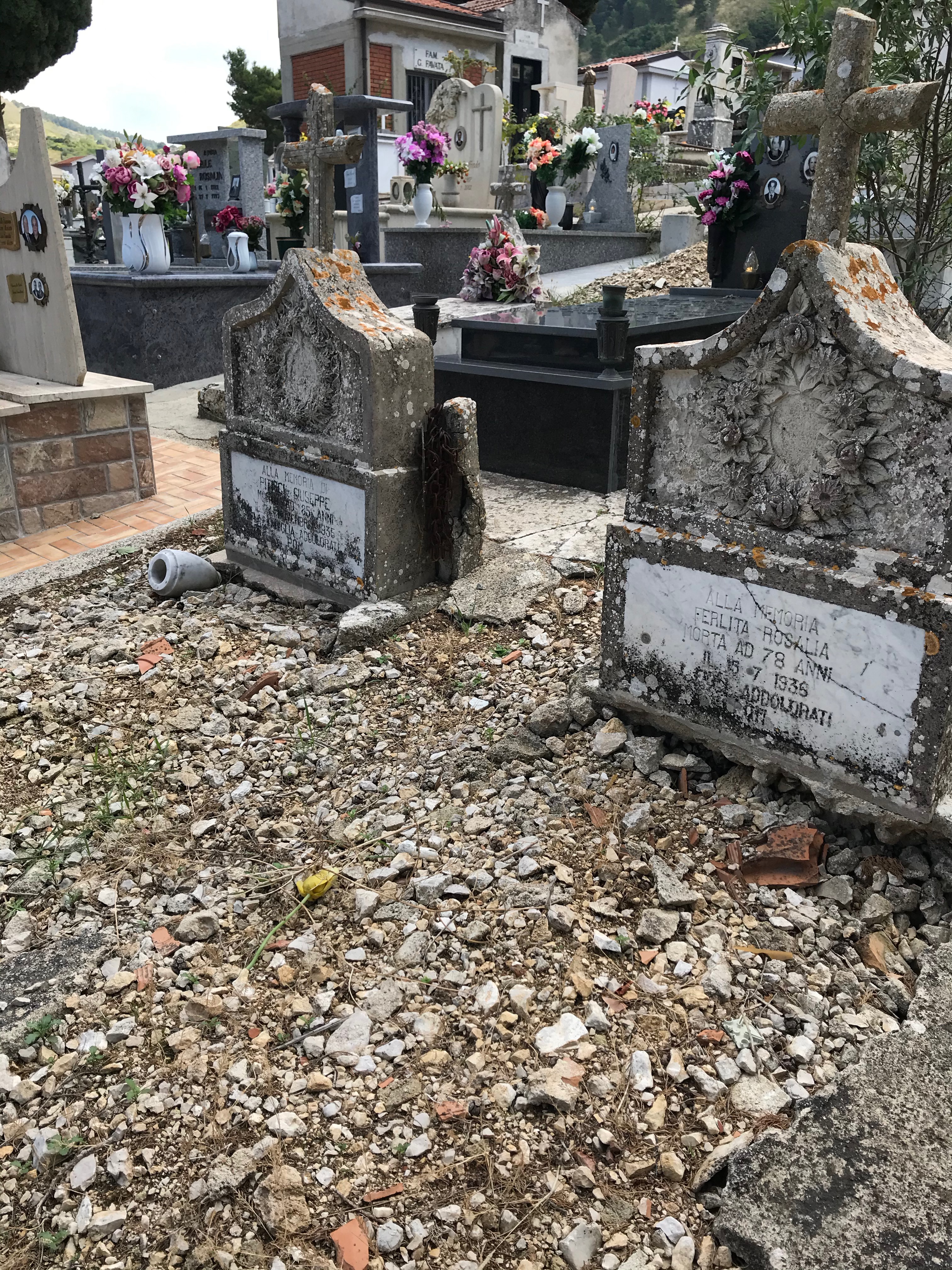 Next we were off to Mt. Quisquina to visit Santa Rosalia's Hermitage, the cave where this revered patron saint of Palermo hid from a wealthy society that expected her to follow their customs. After spending 12 years in a cave in Mt. Quisquina, she returned to Palermo, still hiding, to rid the city of a horrible plague 300 years after her death.  Here my daughters and I crawled into the narrow cave she called home and each brought out a rock for Providence…in the same way my four-year-old grandmother did many years ago when her family from Tampa visited her family in Santo Stefano Quisquina.  It was my grandmother's rock that I would always run to hold as a child during lightening and thunder storms and anything else I feared.  I believed what she told me:  It would keep me safe from harm. It must have worked.  Here I am today!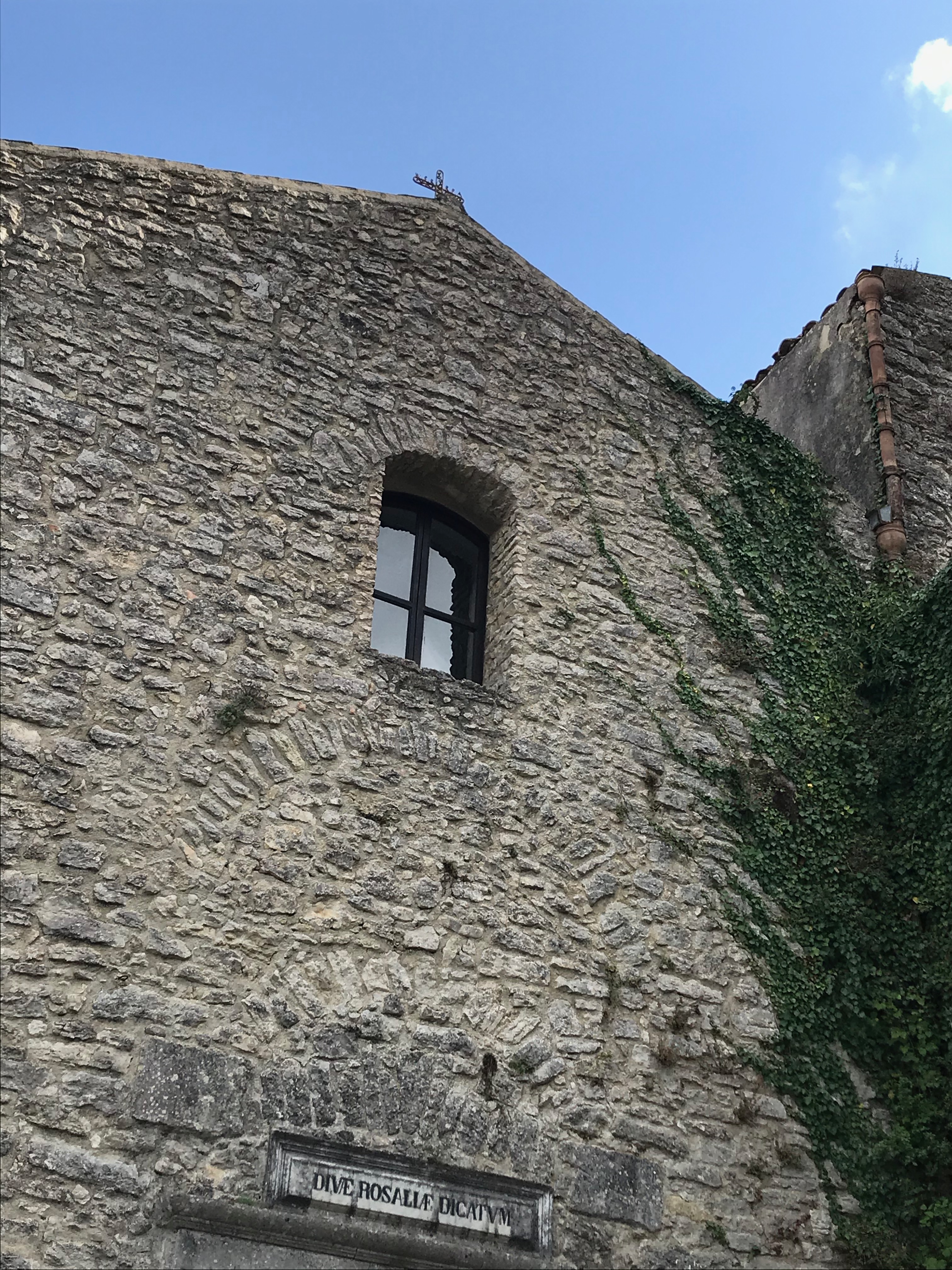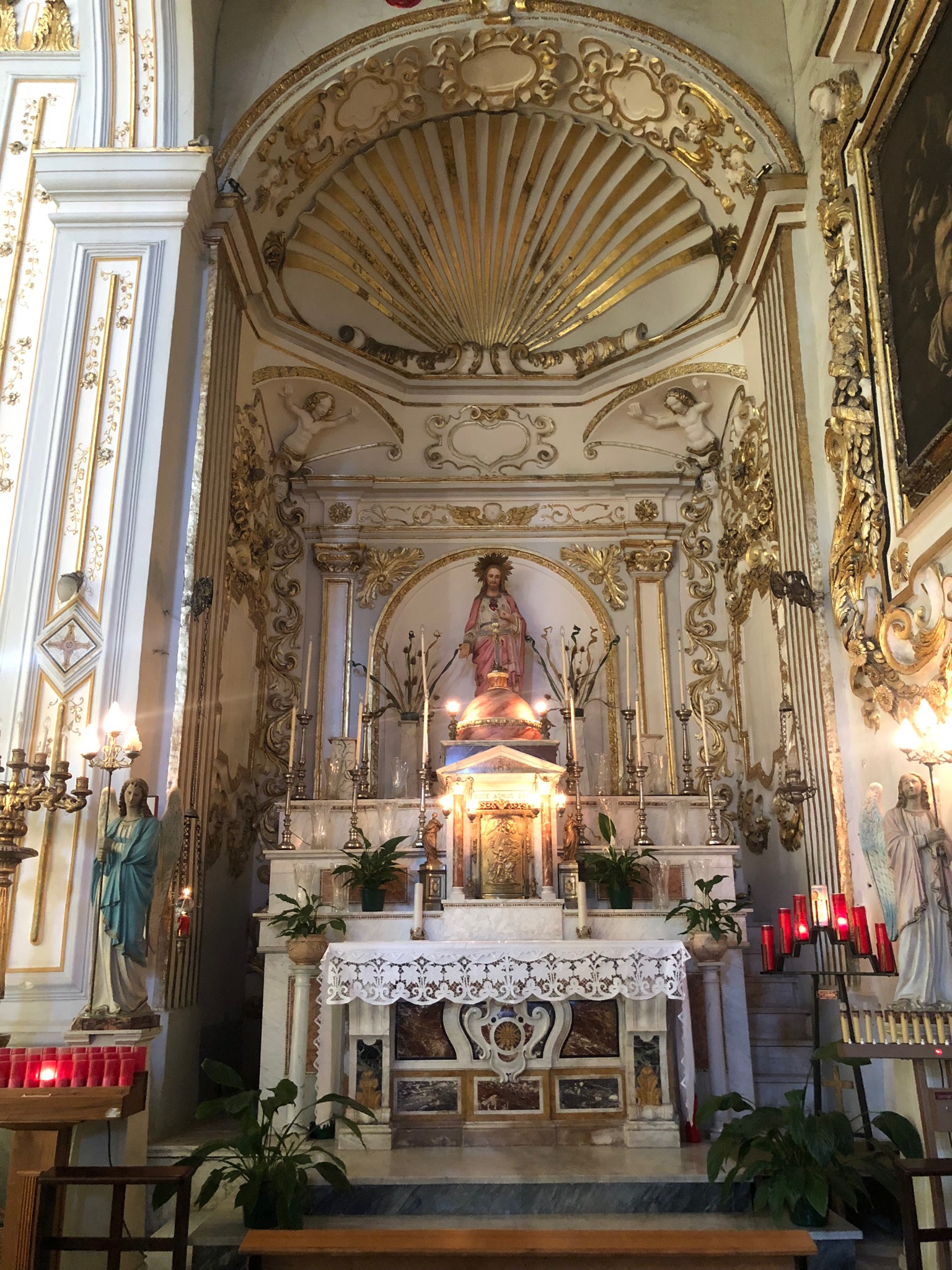 Having had a full day of excitement, we drove up a nearby mountain to spend a restful night at what is the only commercial establishment in town:  Pigna d'Oro Country Hotel. Here we relaxed and dined on scrumptious Sicilian food while enjoying a dramatic view of the town below. It was a beautiful experience to hear nearby sheep and observe a shepherd gathering his flock to take them to safety lest they be disturbed by foxes during the night.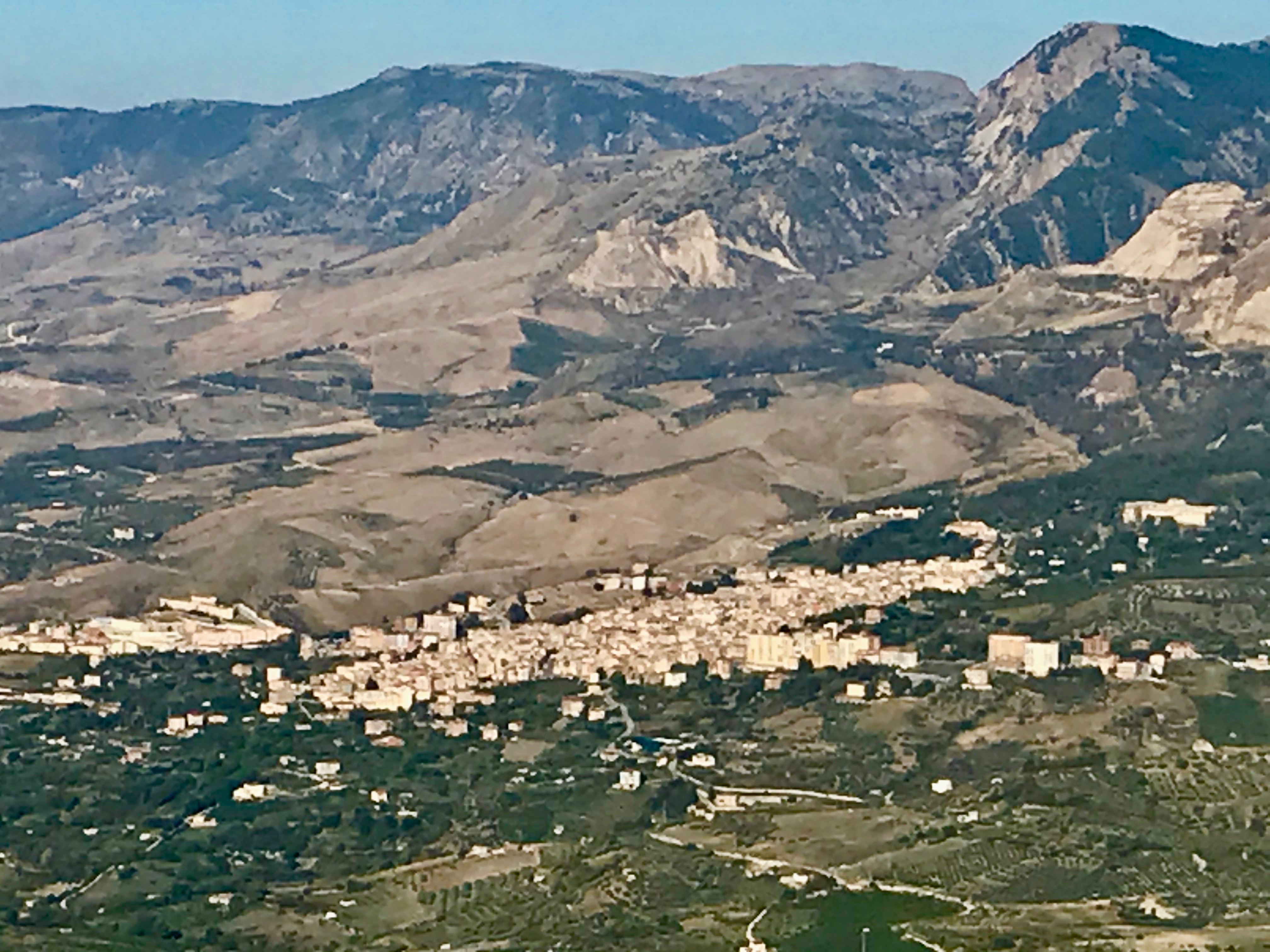 Day 4: After a restful night in the country, we headed to the Valley of the Temples in Agrigento to observe Greek archeological wonders and "chill out" at a local country winery in Enna where we enjoyed tasting a variety or reds and whites and sampling a variety of traditional Sicilian foods.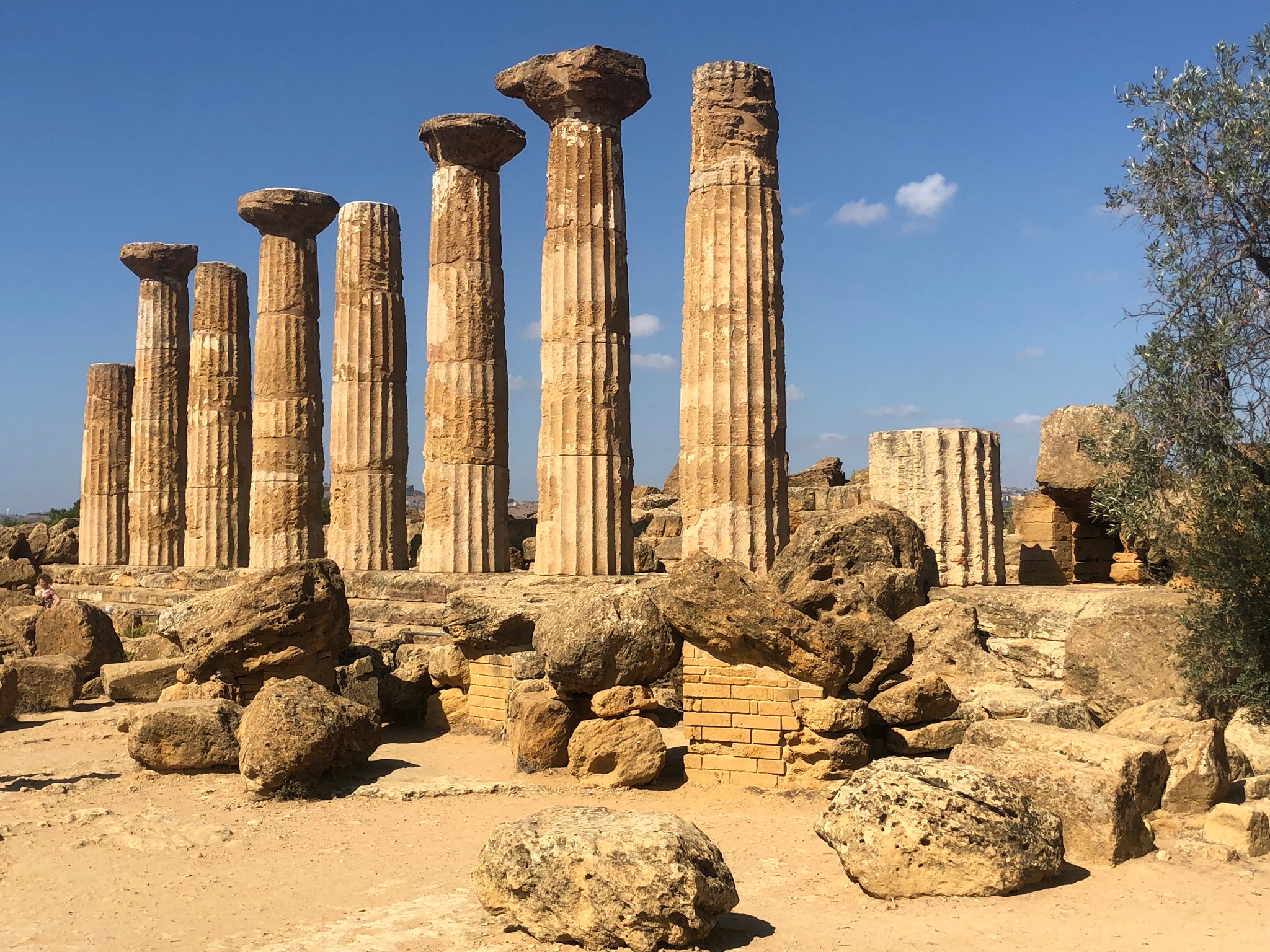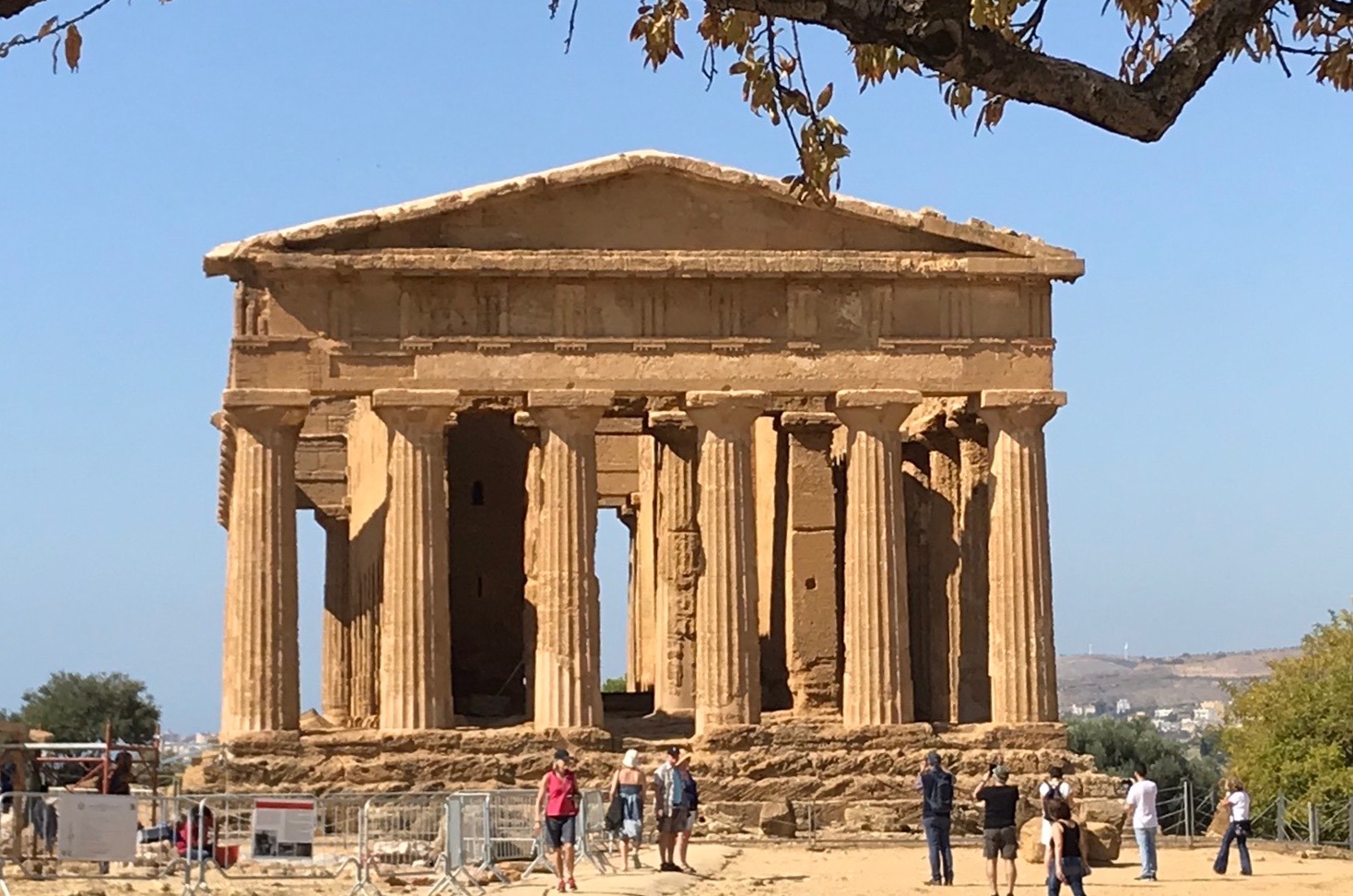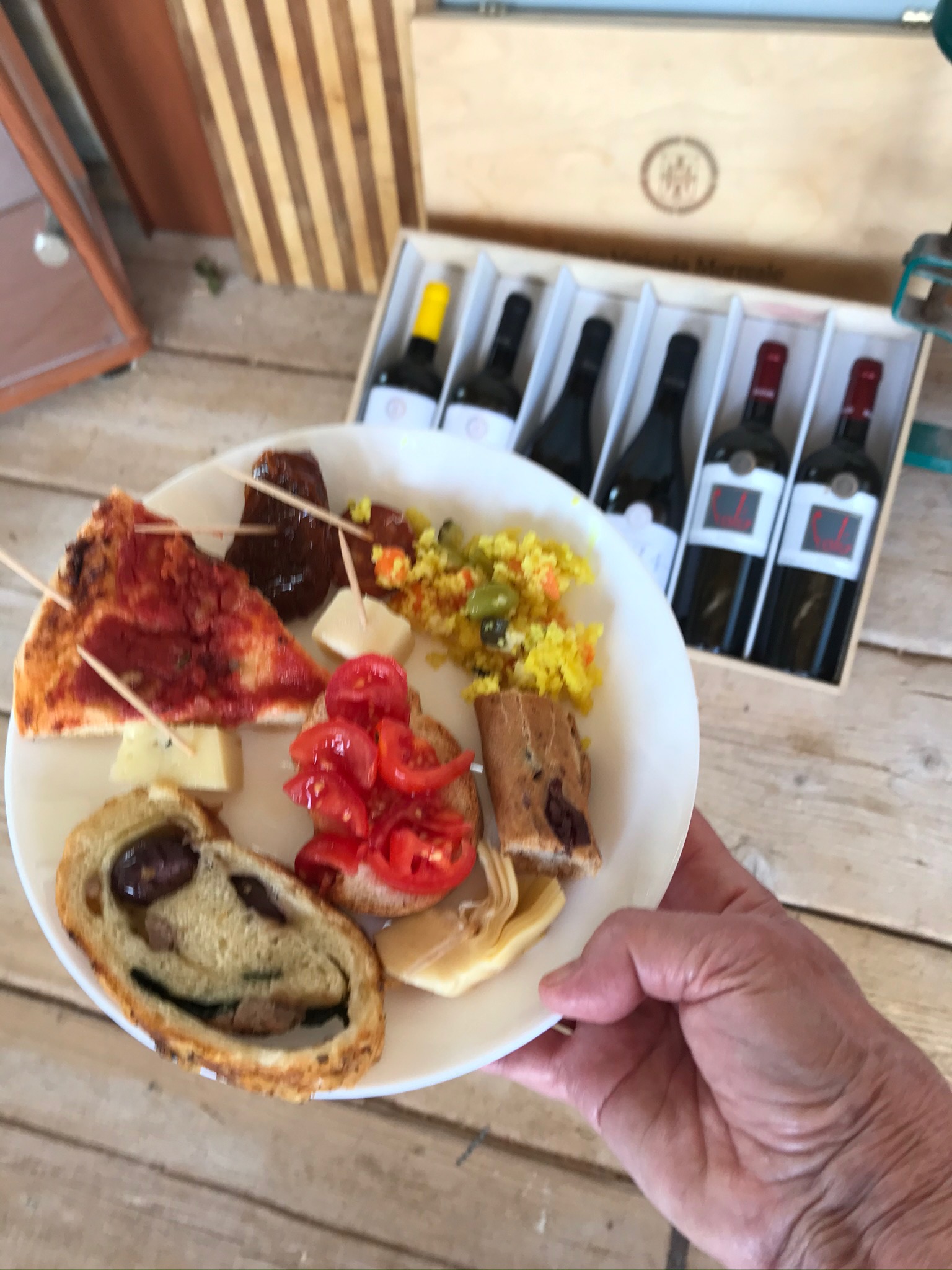 After a long day of driving across the country we arrived at our hotel in Taormina.  It was a beautiful, historic resort adjacent to the town's ancient Greek temple and walking distance to the center of town.  Here we sipped more wine on our balcony overlooking the Ionion Sea and the largest active volcano in Europe, Mt. Etna.  Later, more delicious food and an evening walk in the scenic town center.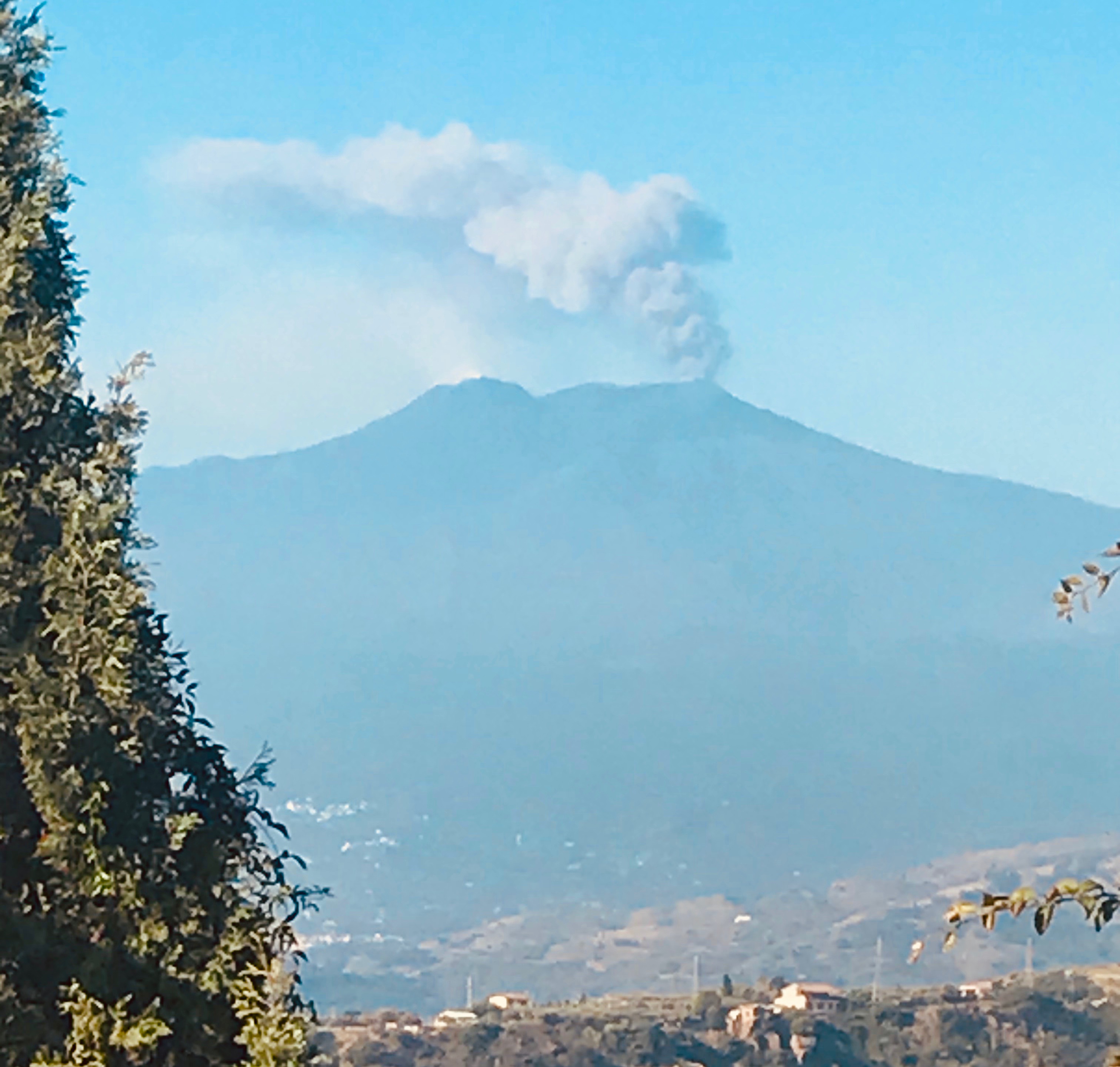 Day 5: After another restful sleep we took a morning ride to Mt. Etna which, to our surprise,  had been spewing ash so much so as to have closed Catania airport the day before we arrived.  We wondered if it would do the same on our departure day and how awful it might be to be stranded in paradise.  Meanwhile, we explored the craters and marveled at the agricultural bounties made possible by the fertile soil created by lava ash.

Day 6: The next and final day of our Sicilian pilgrimage we relaxed at the beach beside Isola Bella and, once again, connected with our ancestors via food.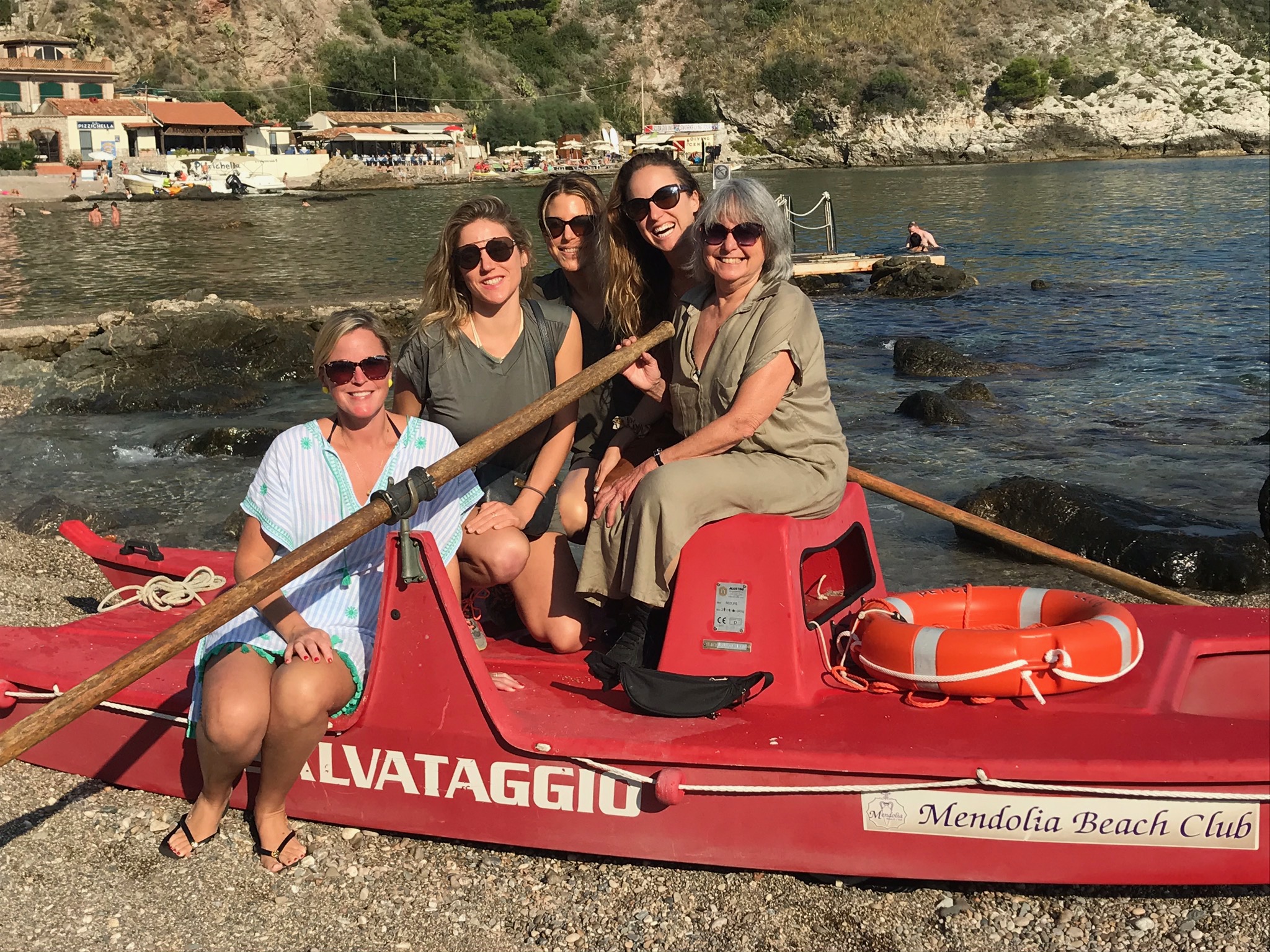 Day 7: Departing from Catania the following morning — the airport remained open despite Etna's continued smoking — we went our separate ways as travelers often do.  One thing we all took back with us, however, was a true appreciation of our ancestral heritage and a far better understanding our ourselves.
Enduring Thoughts: .As with all travel, but particularly with this journey, none of us will ever be the same. To have had the resources to travel graciously to a place where our ancestors fled to escape poverty is a sobering experience.
We thank God for their wisdom in making a heroic choice… wisdom which they did not have to reach chronological maturity to possess. This is their legacy.  This is their gift to us.